Chiropractic Care for Pregnant Women
During pregnancy, a woman's body goes through endocrinological and physiological changes to create an environment for the developing baby. A pregnant woman may experience pelvic and postural changes and an increased back curve. The baby may have trouble getting into the best position for delivery if the pelvis is misaligned. That's why it is so important for woman to seek chiropractic care during pregnancy. Our team here at Lancaster Chiropractic Life Center are here to help your body stay in the best condition for you and your growing baby.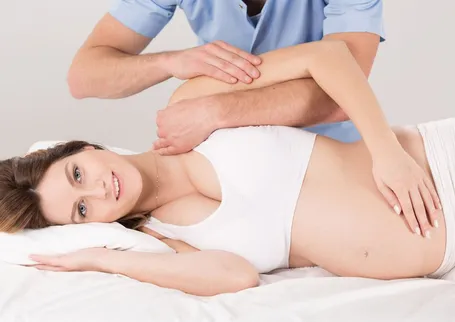 What Happens to The Body During Pregnancy
As the baby grows in the womb, the weight puts pressure on several areas of the body. Additionally, the ligaments relax more, making it possible for the baby to move through the birth canal. This leads to a more curved spine, pelvic changes, and uneven weight distribution. These are some of the biggest reasons for back pain, neck pain, and injuries during pregnancy. There is also the possibility of long deliveries and breech birth.
How Can A Chiropractor Help?
Our chiropractor is skilled in adjustments specifically designed to help maintain the health and wellness of the spine. Chiropractic care can help relieve lower back pain, neck pain, sciatica, and other conditions that may occur from pregnancy.
Prenatal chiropractic care can also help control nausea, improve quality of sleep, and maintain an overall comfortable pregnancy. Additionally, a chiropractor can help a baby in the breech position get into a proper position for birth using the Webster Technique.
Is Prenatal Chiropractic Care Safe?
Yes. Chiropractors are trained in adjusting pregnant women.
How Often Should Pregnant Women Go to a Chiropractor
We will determine the best schedule for you according to your specific needs.
Experience Expert Chiropractic Services
If you're looking for increased function during pregnancy, call Lancaster Chiropractic Life Center today. We are committed to providing care and compassion to all of our patients at all stages of life. Browse our sight to discover the many services we provide. We also provide forms online that you can download at home and bring to your first visit. We look forward to working with you to provide relief from what ails you. Call us today!