A chiropractic checkup is very important to the development of every child. The spine protects billions of nerve fibers that send message to every part of the body. Just like regular checkups for children's teeth, it's important to receive chiropractic checkups as well.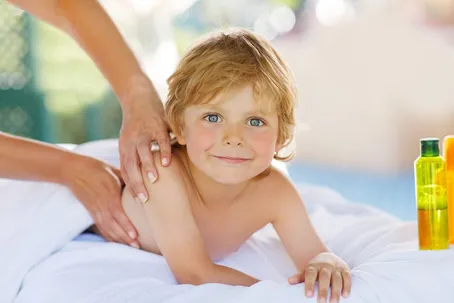 Chiropractic Care for Children is Important
The fact is, chiropractic care and proper alignment of skeletal and muscular functions are essential for children and teens as they grow. 1 out of 5 chiropractic patients today are children under the age of 18 years. Too often these aspects get ignored or the assumption is that they will "grow out of it." Yet, interestingly, a good number of the issues can also be prevented or turn around fairly easily. That is where the chiropractor's care comes into play.
Technically speaking, the body gets all of its messaging and sends all of the nervous system stimuli to the brain through the nervous system. And that highway of body data channels through the spine and core skeletal system. If the body becomes misaligned, it can begin to deteriorate the amount of correct communication moving. That, in turn, begins to affect the child's ability to perform, move, act and achieve physical accomplishments. And, as we know so well, when children are unable to perform as well as their peers, it begins to affect their social psyche and confidence level negatively. Compound this over years of development, and the child's life can be affected as well. This might seem like an extreme result, but the reality of lack of chiropractic correction builds over time incrementally. This end result happens frequently with teenagers.
Any Age in Childhood Can be Affected
Problems with interference with the nervous system are not restricted to specific ages either. All children from infants to later teens can develop problems with the spine or critical nervous pathways if left uncorrected or unidentified. And typical child's play can trigger the start of a problem through a fall, bruise, impact, skeletal break or similar as well.
A Lancaster Pediatric Chiropractor is a Great Idea
Chiropractic care is safe and viable for all ages. It is not generational specific. Chiropractic care is coordinated specifically towards enhancing proper development, not interfering with it. And you will realize multiple benefits from regular care. That can range from better relaxation and sleep at night, which of course improves overall health, to improved physical performance and confidence in social settings.
Families in Lancaster can get the help they need as kids grow working with the Lancaster Chiropractic Life Center. Don't leave proper development to chance. It's your kids' future at stake.
Contact Us today!